Forkel cheats?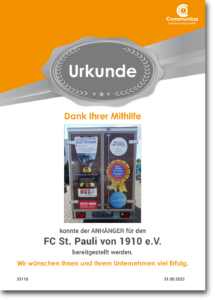 You might think so when you discover something brown and white on the side of the Rhombus – and for some die-hard HSV fans that probably doesn't work at all. For us, yes, without betraying our love for Hamburg's pearl!
We like the sport and we like Hamburg – we support both mentally and materially. So co-financing the supporters of the St. Pauli rugby department through sponsorship was a matter close to our hearts. Niche sports and their promotion of young people are particularly dependent on the commitment of small and medium-sized companies such as Forkel Logistics.
Another, very important reason for our commitment lies in our DNA as a logistics professional. When it comes to topics such as trailers and transport, our hearts beat faster and faster anyway. Here we know how necessary it is and somehow always feel responsible and challenged. This is how this cooperation came about and we are happy to have contributed to the realization of the project.